Climbing The Weight Loss Wall


Posted by Danielle on
All of a sudden you're on cloud nine, feeling your fittest and you've SMASHED your weight loss goals but...then you start to slip or you begin to plateau along your journey.  If it's not happening right now, you've likely been there before, maybe it's in between new diets or a big event happening in your life slowing down your progress. Either way, the weight loss wall is inevitable at one point or another. BUT... what matters is how you bounce back and get back on track sooooo…..Get ready Boombabes💪we're busting through that wall together with these six tips! 
Get Help From A Friend
Saying no to an evening of drinks and snacks with a friend is hard. Well, the same can be said for having a partner in crime to exercise with or commit to new healthy habits with. We are FAR more likely to remain accountable and committed to a new routine when our BFF is cheering us on and asking how we're making out. The best part is this works both ways, so it's a win win for you both!
Detox
If you've fallen off the wagon and become unmotivated due to your weight loss plateau, jump starting things again with a detox is a great way to start feeling better quickly and rid your system of all sorts of toxins. Maybe your vice is bad, salty or fatty foods or perhaps you are enjoying a few too many fizzy drinks and treats (after all, the warm weather usually means extra parties and celebrations). Either way, making a list of the unhealthy habits in your life and crossing them off all at once or one by one is a great way to detox. There are also a number of supplements out there that help you to detox your system in healthy ways. Boombod is a great way to remove toxins from your gut and quickly banish cravings and debloat, all it takes is 7 days to get going!
Flush Your System With Water
Are you getting all of the water you need to stay hydrated throughout the day? Chances are you're falling short. This is especially important when you are looking to continue your weight loss journey and get back on track. So, what's the daily recommended amount these days? According to the Mayo Clinic, Men typically require 15.5 cups a day, while women need closer to 11.5 cups to help maintain muscle function, cognitive functioning and so much more.
Use A Fitness App
There are tons of fitness apps and meal tracking apps out there to help push you further in your weight loss goals. Perhaps at first you were just focused on "eating healthy" and exercising when you could. Now that you've lost some weight, it's time to get into the details and keep track of your progress, after all-you've worked hard for it! Taking the time to plug your exercise or food intake each day can really open your eyes to how many or how little calories you're consuming and whether you're burning the right amount to make things balance out. One of our fav's is MyFitnessPal!
De-stress
It's not always easy to tell when someone is under stress, and stress has a tendency to build up on us - meaning we may cope by overeating. Stressed spelled backwards is "desserts"...coincidence? Perhaps, but there's a lot that can be done to minimize stress! We first need to identify where the stress is coming from. Many individuals have turned to meditation and other forms of relaxation to help battle the stressors of everyday life.  Supplements containing a soothing blend of Ashwagandha and chamomile are great for releasing tension.*
Use A Weight Management Aid
That's right, sometimes we need a little kick in the behind but also, sometimes our metabolism slows down and we just need a bit of a boost. There are plenty of options out there to help with weight loss and they can even be exactly what you need to shed the last 10lbs you're trying so hard to get rid of. Boombod contains a clinically proven weight loss ingredient and is all natural - check out the Original Blackcurrant 7 Day Achiever (BOGO FREE means one for you, one for your health kick parter 😉)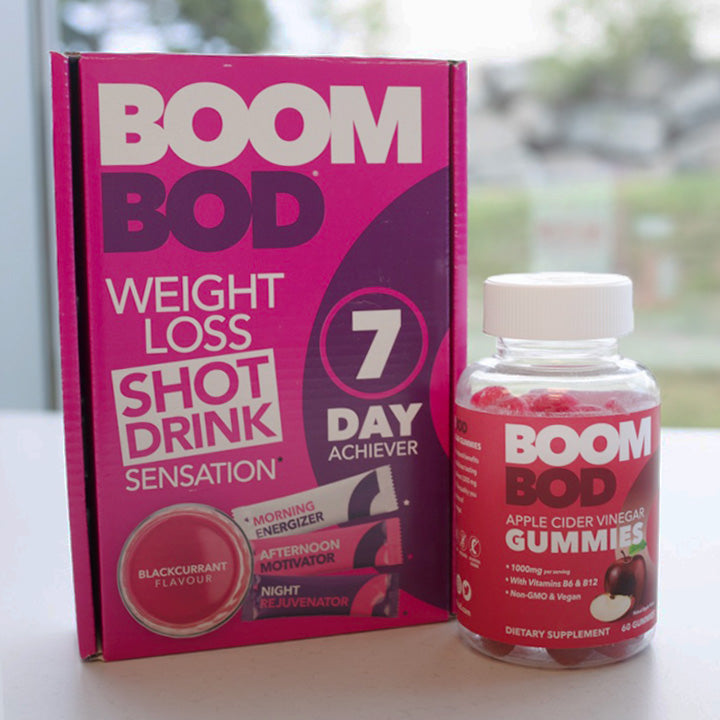 The weight loss wall can present itself at any time and is incredibly common so not to worry, your best bet is following these steps to get back on track and keep this weight loss journey going! Don't forget, you're stronger than you think and change doesn't happen overnight - you got this! SO grab your bestie and get your workout on!