3 Tasty High-Fiber Salad Recipes To Help Minimize Bloating


Posted by Natalie on
We've all been there - waking up in the morning feeling light on our feet, pants fastening without resistance and... are those abs coming through? 👀But then we eat breakfast and BAM, we spend the rest of the day bloated and uncomfortable 🥴The truth is that often times we eat things we know don't sit well with us and that alone triggers digestive issues. Other times, we just can't pinpoint the cause or how to keep the discomfort under control. The good news is that there are solutions to help reduce bloating, such as Boombod shots, Apple Cider Vinegar Gummies and Digestive Enzymes...but did you know there are also certain foods that contain amazing properties to help bring your tummy down to its normal state? 
Bloat is a buildup of gas in the abdomen that can be caused by an overgrowth of bacteria in the small intestine, as well as the air we swallow and even normal digestion. Sometimes, bloating can also be a sign of water retention. However, there's a wide range of fruits, vegetables and spices that help reduce these annoying symptoms so you can feel your BEST all day long! 
SO, which foods are we talking about anyway and how do you incorporate them into your day? Well, it's actually SUPER easy and today we're sharing 3 tasty high-fiber salad recipes to help minimize bloat! You're going to want to bookmark this - the last recipe is SO simple and delicious you'll be eating it every day👇
FRUIT MEDLEY SALAD
This yummy tropical fruit salad is packed with fiber and will satisfy your sweet tooth while also helping you beat the bloat. Our recipe includes a probiotic-rich ginger mint kefir sauce and the rest is just chopping up the fruit to your liking! 🍌🍍🍊
How it helps: 
Bananas and oranges both contain a good amount of potassium, which helps reduce bloating caused by water retention due to too much sodium. Ginger contains a digestive enzyme called zingibain and pineapple contains an enzyme called bromelain, both of which help break down proteins and support digestion. 
Ingredients:
1 Banana, peeled and sliced 
¼ Pineapple, peeled and cubed 
1 Orange, peeled and cut into wedges
Sauce:
1 cup unsweetened lactose-free kefir 
1 tsp grated ginger 
3 crushed mint leaves 
1 tbsp honey, maple syrup or your low-calorie sweetener of choice 
Mix all ingredients together and serve! 
SHRIMP, ASPARAGUS & QUINOA SALAD
This dish is DELISH and a great option for dinner! It includes grilled shrimp, asparagus, butternut squash, quinoa and spinach! Talk about a power salad 🙌🍤🥗
How It helps:
Shrimp and spinach help fight inflammation, while butternut squash contains potassium to fight water retention. The asparagine in asparagus is also a diuretic AND it contains loads of fiber to boot! If you have a gluten sensitivity, you can't go wrong with quinoa as it's naturally gluten-free and well tolerated by most 💪
Ingredients:
4oz shrimp
10 asparagus spears, chopped 
1 cup butternut squash, cubed 
1 cup Spinach
½ cup quinoa, cooked 
Drizzle of olive oil 
Salt, pepper and garlic to taste
Instructions:
Steam the asparagus and sautée it in a pan with your fav seasonings. 
Boil the butternut squash, then roast it in the oven with salt and pepper to taste. 
Cook the quinoa in a pot with 1 ½ cup of water until fluffy. 
Grill the shrimp (or pan-fry it). 
Let everything cool in the refrigerator. Add the spinach to a bowl, followed by the quinoa, then the butternut squash and asparagus. Top with shrimp and drizzle with olive oil, then sprinkle some salt and pepper.
CUCUMBER, TOMATO & AVOCADO SALAD
This simple summery salad will keep you cool and bloat-free! It contains easy-to-find ingredients so you can make it on the go and tons of fiber and good fats to keep you feeling full 🥒🍅🥑
 
How it helps: 
Much like bananas, avocados are rich in potassium, while tomatoes and cucumbers are slightly diuretic and contain loads of water to break down fiber and help keep things moving along your digestive tract. This salad also has a tasty basil and apple cider vinegar dressing, which is widely known to help with digestion!
Ingredients:
1 large heirloom tomato, cubed 
1 small avocado in cubes
1 cucumber, chopped
1 cup spring mix 
 
Dressing:
1 tbsp apple cider vinegar
½ tbsp olive oil 
1 garlic clove, smashed 
2 basil leaves, crushed 
Salt and pepper to taste 
Prepare dressing separately, then mix all ingredients together before serving.
OK, so we're def hungry now and we'll be eating ALL of these salads without an ounce of guilt, knowing our bellies will be kept in check while we enjoy our food! BUT, we know it's not ALWAYS possible to cook a hearty homemade meal when we are on the go, so if you're in need of something to help you keep the bloat away at all times while also banishing naughty food cravings that can cause bloating, Boombod shots are here to help! All flavors are on Buy One Get One FREE right NOW, so be sure to get yours ASAP💕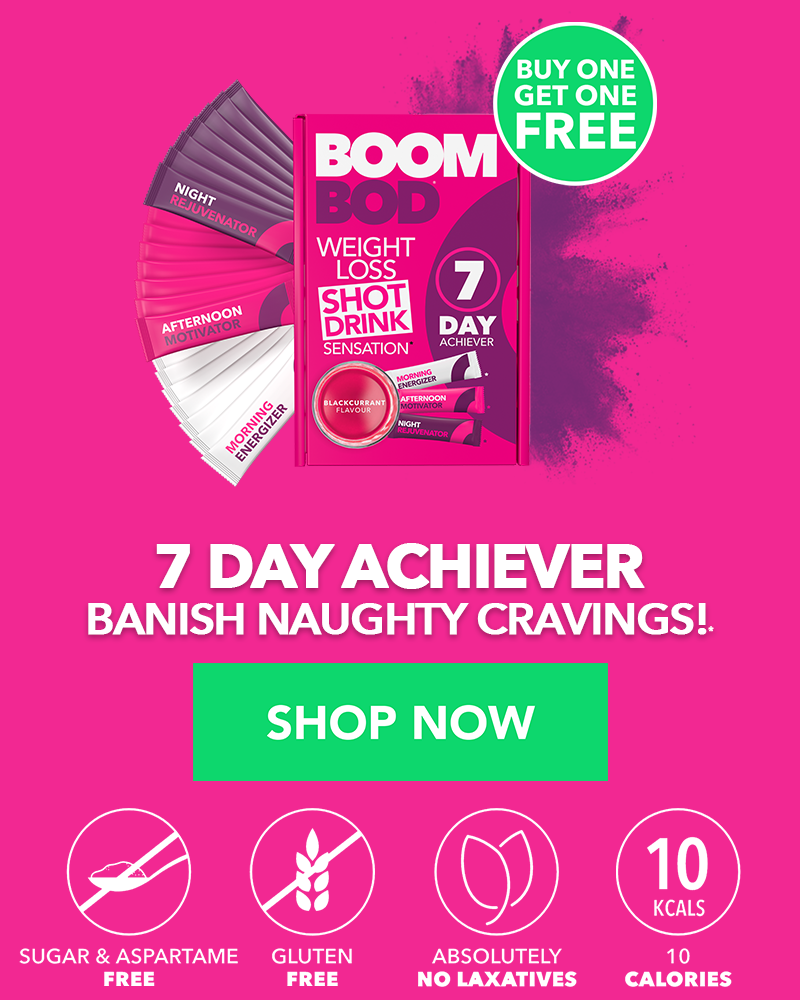 Source: https://www.womenshealthmag.com/food/a19997333/foods-to-help-de-bloat/