3 Boombod Transformations You Need To See


Posted by Natalie on
If you're thinking about giving Boombod a go, you're not alone. Thousands of people with big dreams of weight loss take the leap every day and go on to tell us about their Boombod experience on Trustpilot 🌟Loads of happy customers send us their results photos and that is truly the most rewarding part about helping people smash their goals with the Original Weight Loss Shot Drink 🙌 BUT, the other AMAZING part? Sharing all the results with YOU! Losing weight and getting fit is not exactly easy. Temptation is EVERYWHERE and every waking hour, naughty cravings wage a war against the desire to finally shed a few pounds for the sake of our health or to fit into those old jeans in the back of the closet. Luckily, Boombod is the secret weapon designed to aid in weight loss 👊 We're all about results at Boombod HQ, they show us all what can be achieved when we stick to our goals, especially when staying motivated gets hard. That's why we've put together 3 Boombod transformations that you can come back to look at whenever your willpower starts to fade 💪
Real customers Bethany, Athena and Melissa were in need of a push to jumpstart their weight loss journeys and that's when they found Boombod! Whether you're a busy mom, in school or working long hours, Boombod is here to give you a boost and these incredible customers are proof of that. But don't take our word for it, here's what they had to say 👇
BETHANY
"I started taking Boombod because I wanted to feel more confident in myself. During the first lockdown, I thought the time was now to make a change, get that confidence back in myself and learn to love myself again!"
"Boombod was easy to take, tastes great and it really helped me feel full after a meal, it also gave me that boost of energy that I needed during the day."
"While I was taking Boombod, I would mainly stick to higher protein meals with lots of greens. I would stick to the food groups such as fish, chicken, vegetarian alternatives and made sure my plate was full of lots of vegetables to fill me up, but because of Boombod, I found that I was becoming full quicker, which was a bonus. During the start of my weight loss journey and taking Boombod I exercised quite frequently, I would do at least 30-45 mins of exercise 6 days a week. That would involve cardio, weights and toning plus HIIT workouts that would help me burn fat fast and burn calories."
"My advice would be that you need to be ready to commit and you also need to know that you are doing it for yourself and no one else. That is the most important thing - doing it for the right reasons. Boombod completely changed my life for the better and I can't thank it enough for changing me and my body. It is definitely the boost I needed to make the push in weight loss. Less cravings and more energy, that's a win for me!"
ATHENA
"I started taking Boombod after I read it had vitamins in them which gave me an extra energy boost whenever I drank them in the morning and post-workout. I love the vitamins that are in them and also a shot of Boombod makes me feel full for a while after."
"When I started Boombod I also started following the keto diet alongside using it. I do exercise regularly but I did have to take time off for several months following a knee injury and then surgery, but I still used Boombod while I was recovering and lost weight just on Boombod - no exercise. My exercise regime is 2-3 days a week and I do strengthening and cardio."
"I would recommend Boombod for anyone starting their weight loss. The vitamins in Boombod are very important to me; they give me the boost in energy I need to start my workout. They are better than coffee in providing that energy we ALL need. Boombod has become a way of life for me."
MELISSA
"I started taking Boombod to lose weight. What I love the most about Boombod, other than the flavors Is that it cuts your appetite completely! I ate just healthy foods, like whole grain cereal and fruits, but I have to say there were times I wasn't hungry."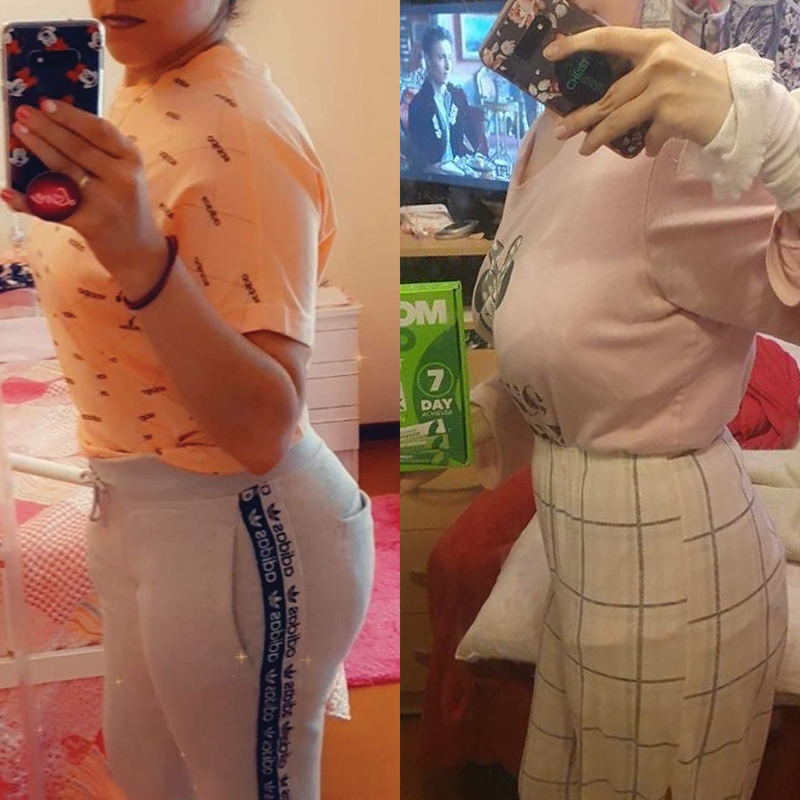 "For exercise, I walked with my mom and at home I did leg and belly exercises. I recommend drinking at least 2 litres of water and taking walks because it doesn't only helps you lose weight, but also helps with depression - it's helped me!"
"I do have to say I thank God for giving you the idea of Boombod programs because before I was like a yo-yo and didn't know what to do. Since Boombod came out, it's like a DREAM come true. Sometimes when I get on the scale or even look in the mirror, I have to pinch myself. Thank you for creating this product."
Talk about incredible transformations, aren't they AMAZING? We KNOW these 3 weight loss success stories will help keep you in the ZONE while you're SMASHING your goals💥 If you still need a little bit of help staying on track, remember Boombod has your back AND with Buy One Get One FREE on NOW, there's never been a better time to take a shot 💕